Why Choose ProBookies' NBA Betting Software?
ProBookies has been in business for over 25 years and we have worked hard to develop the best NBA betting software for online bookies. We have created our own NBA basketball betting software solution with all the NBA betting options that basketball gamblers want to have available including point-spreads, money lines, parlays, teasers, totals, round-robins, point-buying, futures, and prop-bets. Your NBA bettors will also have access to the latest technology in Live Basketball Betting so they can enjoy the best in-game betting action. Our NBA betting software allows bookies to have control over all their players' settings and get access to real-time reports. ProBookies risk management services are available to help you keep your money safe and risk-free from fraud and abusive bettors. Set up your account in under one hour. Start your 2-Week Free Trial Now!
The Best NBA Betting Software From as Low as $7 Per Head.
Save More with 50+ Players
2 Weeks Free-Trial. No Deposit Required
BENEFITS
All Basketball Bet Types
NBA and NCAA Basketball Betting
Instant Account Setup
Pay Only For Active Players
24/7 Customer Support
24/7 Multilingual Player Support
Mobile Interface

Racebook Included
E-Sports Betting
Prop Bets and Futures
Multiple Betting Platforms
Virtual Casino Games
Live Dealer Casino Games
Custom Domain and Website Templates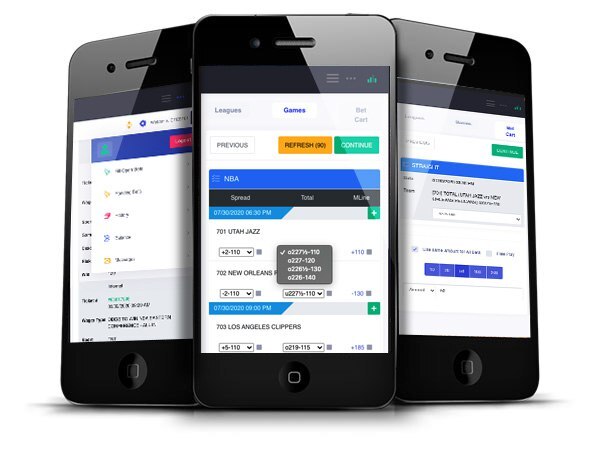 Mobile Friendly Player


and Agent Interface

Compatible With Desktop And Mobile Devices, Our Player and Agent Software Interface Will Let You Run a Modern Betting Service That Your Players Will Love.
Payments
Methods
We offer two of the most popular cryptocurrency payment methods to help you stay anonymous. Our service starts from as low as $7 per head per week. You only pay for active players and discounts may apply depending on the number of active players you have and the package you have chosen.